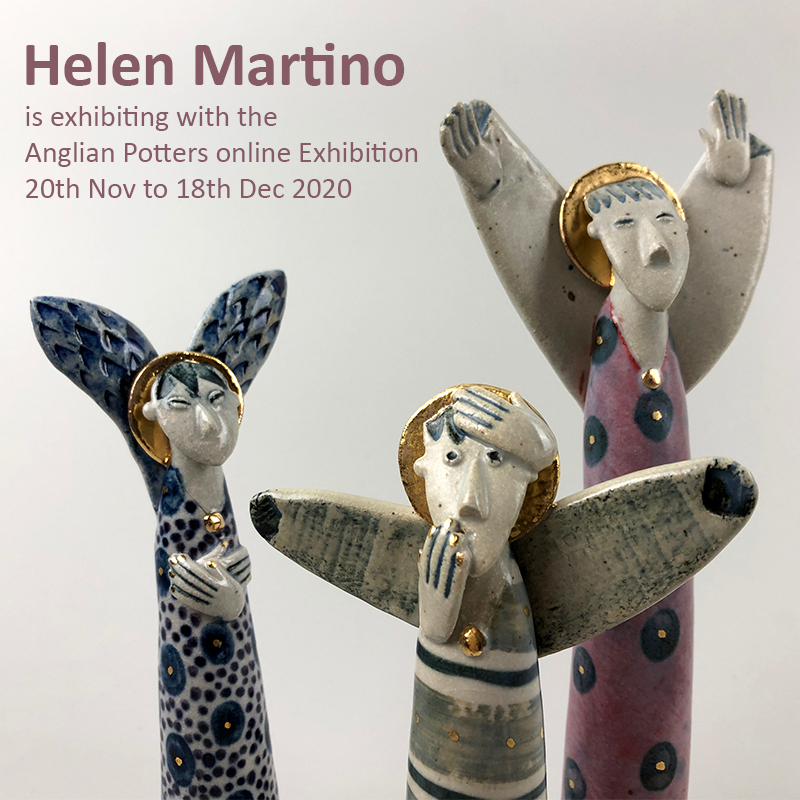 Anglian Potters Christmas Online Exhibition and Shop
I have got 6 of my ceramic sculptures and three charity Christmas decorations in this new Virtual Exhibition hosted by Anglian Potters. This year the chosen charity for the Christmas decorations is MND.
This year there are 60 potters exhibiting in the online exhibition so there is a very good choice.
The exhibition will run from the 20th of November to the of 18th December 2020 and it will be updated as items are sold.
I am not having a Christmas Open Studio this year but of course you are always welcome to get in touch with me as usual by email or phone or by my website.
I hope you enjoy visiting the exhibition https://www.anglianpottersexhibition.com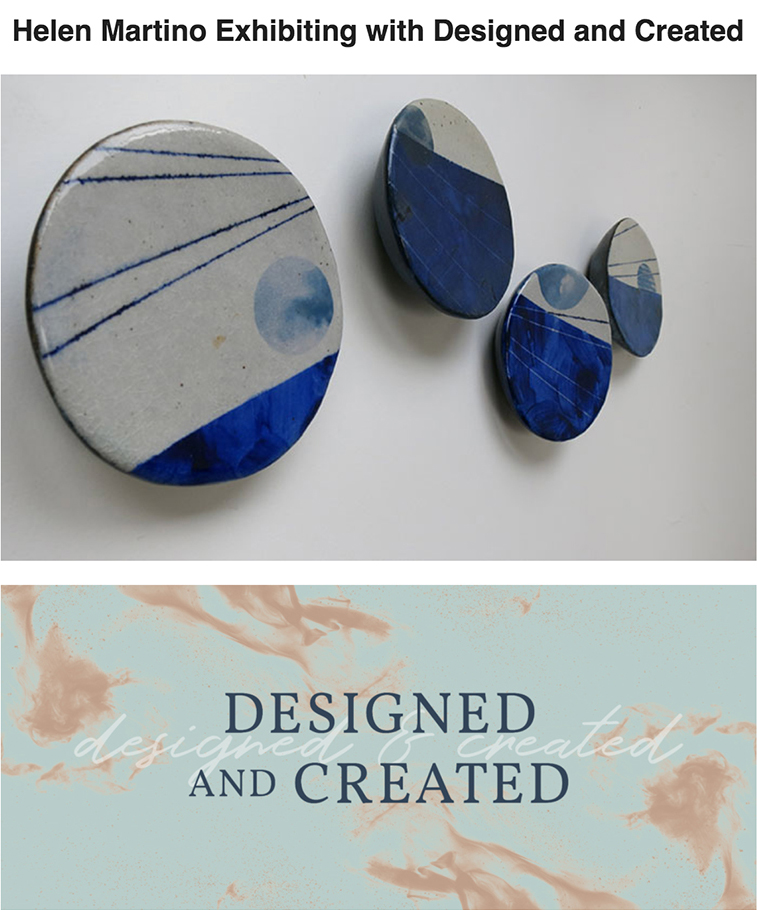 Designed and Created Website
I am pleased and proud to be one of the artist/ craftspeople to be included on the new Designed and Created website being launched by my daughter in law Laura Martino. She is specialising in Hand made objects and art for ones home and is taking a different approach to her website that I think is unusual and design orientated. Take a look and see what she has set up. www.designedandcreated.com
Laura is showing my individual one off wall pieces and the flattened vases which are based on the functional domestic items we use every day, like teapots and cups and saucers.
As things get bought new and different work will be added so there will be an ever changing variety and new artists and designers will be added as the website grows.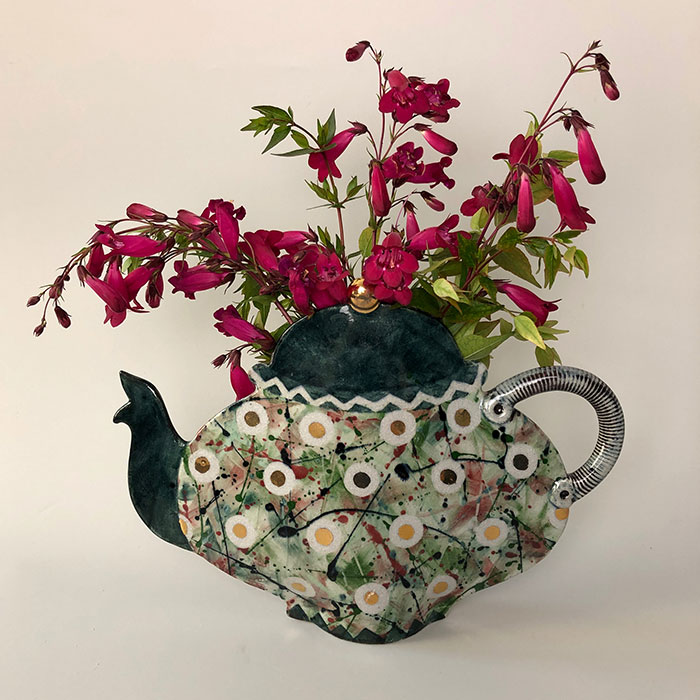 Cambridge Open Studios
This year I am very pleased to be showing my work with three other artists at the Fen Ditton Gallery.
Helen Martino. Ceramics
Rosemary Cullum. Oil paintings
Janet Powell. Silver and Gold Contemporary Jewellery
Lotte Attwood. Black and White Hand-Printed Photographs
Normally on July weekends we welcome the public to our work spaces. This year due to COVID-19 and nationwide lockdown, the 2020 Cambridge Open Studios take a slightly different form with windows across Cambridge showing the works of the artists and makers made in their studios.
Fen Ditton Gallery, was due to host a mixed exhibition of four Cambridge artists and makers.
Now the gallery has an online exhibition https://www.fendittongal#C51186 showing the work and Open Studio Windows.
Please take a look the virtual exhibition and visit the gallery to see the windows and possibly, by appointment with the gallery, view all the work plus their current black and white photography exhibition.
Fen Ditton Gallery, 23 High Street, Fen Ditton, CB5 8ST
Contact: info@fendittongallery.com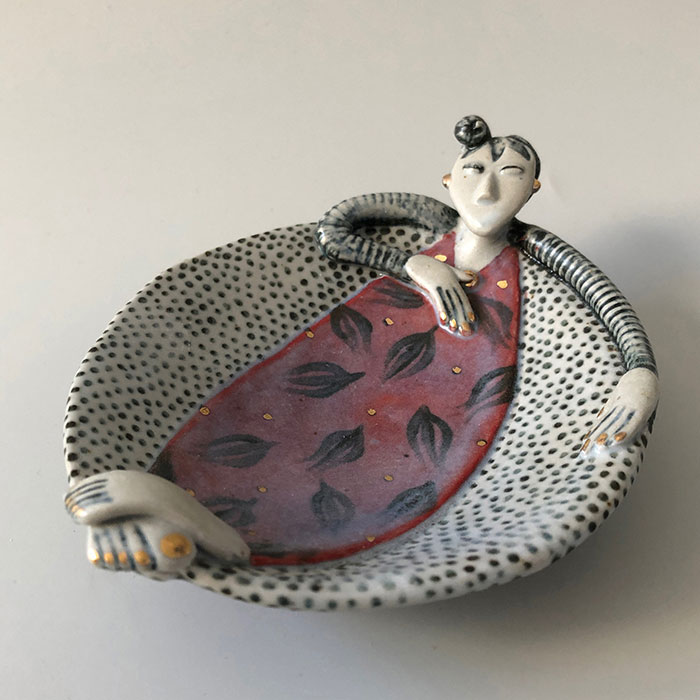 'Making Waves' Mixed Summer Exhibition
Old Chapel Gallery, East Street, Pembridge, Herefordshire, HR6 9HB
Opening  Virtually on Sunday July 12th.
There after online and in the gallery open Wednesday to Saturday 12 – 4pm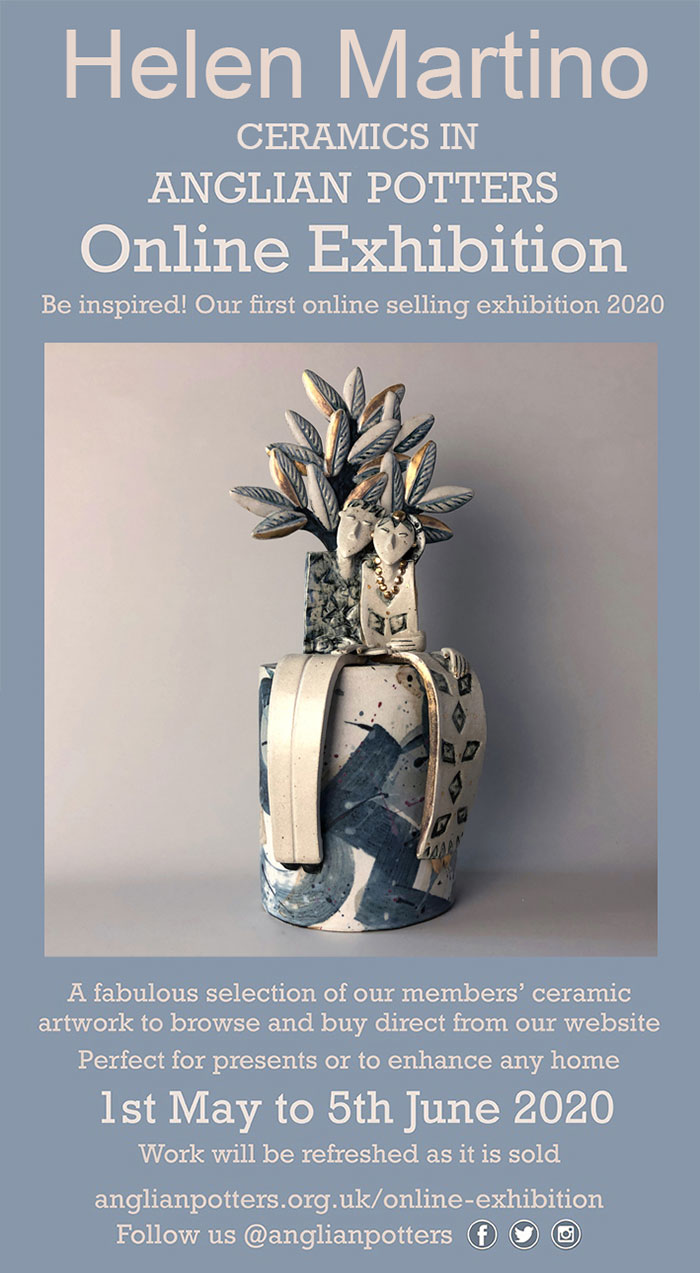 Helen Martino in Anglian Potters Online Exhibition and Shop
I have got 6 of my ceramic sculptures in this new Virtual Exhibition hosted by Anglian Potters.
I have been a member of Anglian Potters for many years and have been part of there real Exhibitions many times in the past. Anglian Potters had the great idea to do this to support their potter members during Lockdown. With galleries and public gathering spaces closed it is a great opportunity to get an update to what 26 of us have all been making and there is even a secure way of buying on the website too.
The selection of potters and pots will change each month. I am included from the 1st May to 1st June.
Of course you are always welcome to get in touch with me as usual by email or phone or by my website.
I hope you enjoy visiting the exhibition www.anglianpotters.org.uk/online-exhibition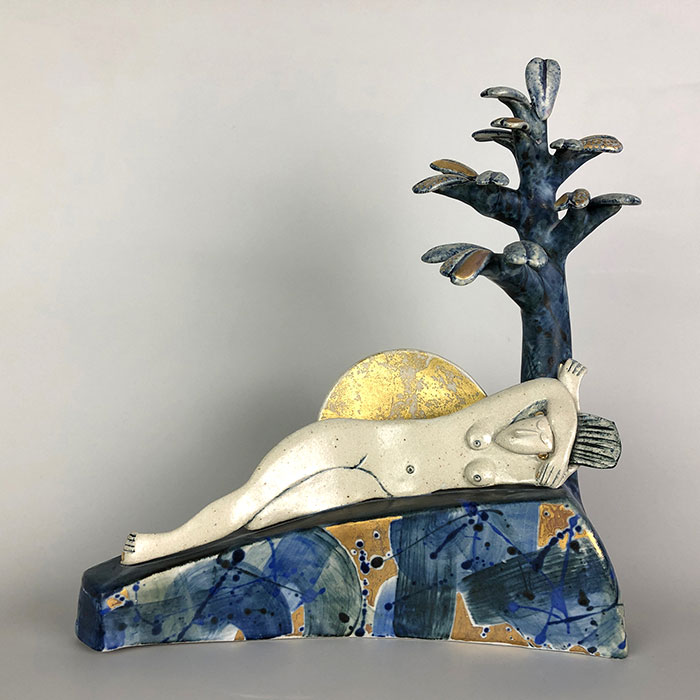 The Pyramid Gallery
43 Stonegate, York YO1 8AW
Dates : 28 February 2020 onwards
Website : https://www.pyramidgallery.com/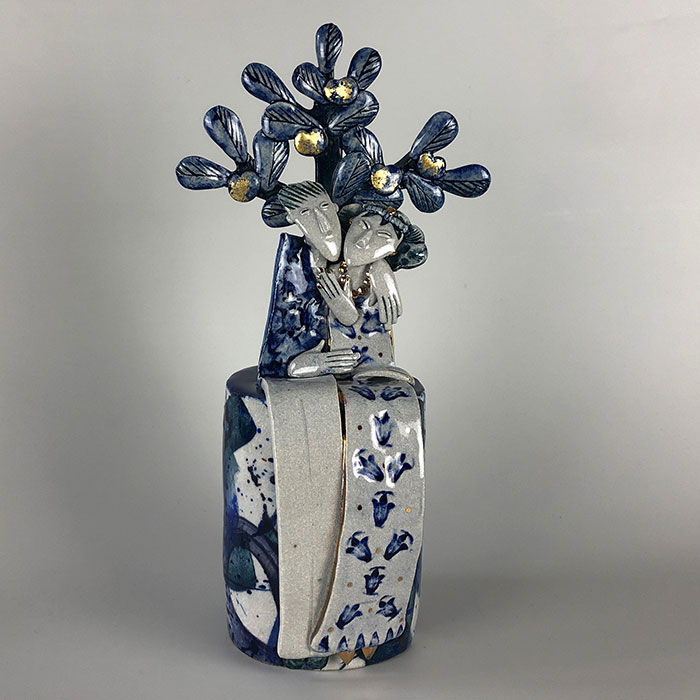 The Biscuit Factory
16 Stoddart Street, Newcastle upon Tyne, NE2 1AN
Spring Exhibition 2020
Dates : 6 March 2020 onwards – Online until after Lockdown.
Website : https://www.thebiscuitfactory.com/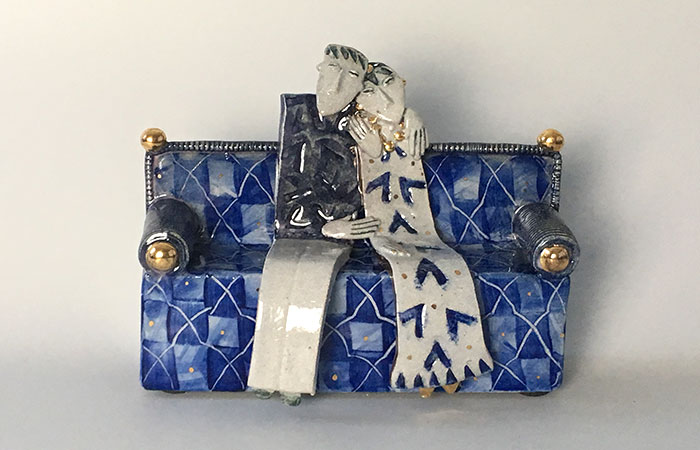 Cambridge Open Studios
72 Huntingdon Road, Cambridge, CB3 0HH
I work in my studio, looking out at my garden and the weather virtually every day. I love clay, creativity and making sculptures. Why not come and see!
Dates : Saturday and Sundays – 7/8 July & 14/15 July 2018 – 11am to 6pm
Website : https://www.camopenstudios.co.uk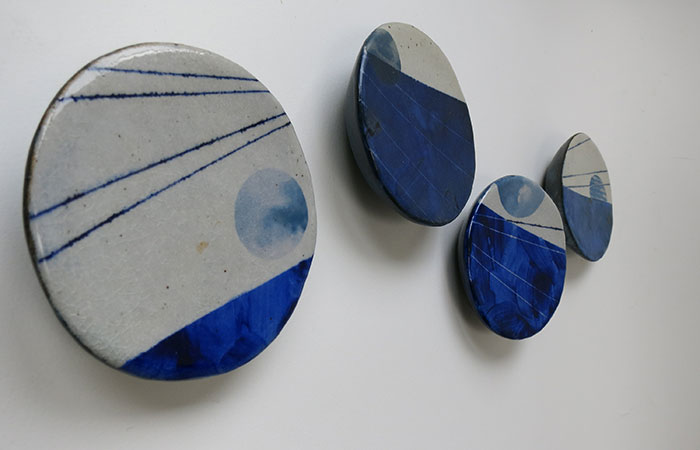 Galerij Pi Kwadraat, Erpe-Mere, Belgium
I am lucky to be invited once again to show my work in Paul Yperman's gallery with Sasha Wardell, Pavel Knapek, Vladimir Groh & Yasuyo Nishida and Margot Thyssen. I will be making some new wall pieces and sculptures. I hope to be there for the private view. This is a gallery that specialises in ceramics and glass.
Dates : 23 September to 14 October 2018
Website : http://pikwadraat.be/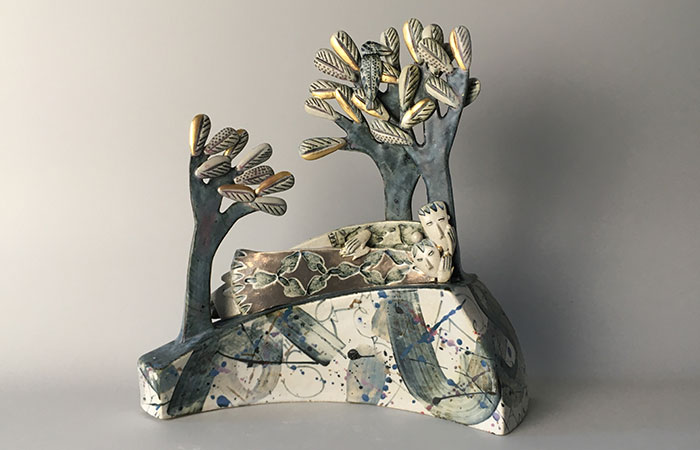 Montpellier Gallery, Stratford-upon-Avon
I am enjoying working towards this exhibition, more details to follow.
Dates : December 2018
Website : http://montpelliergallery.com/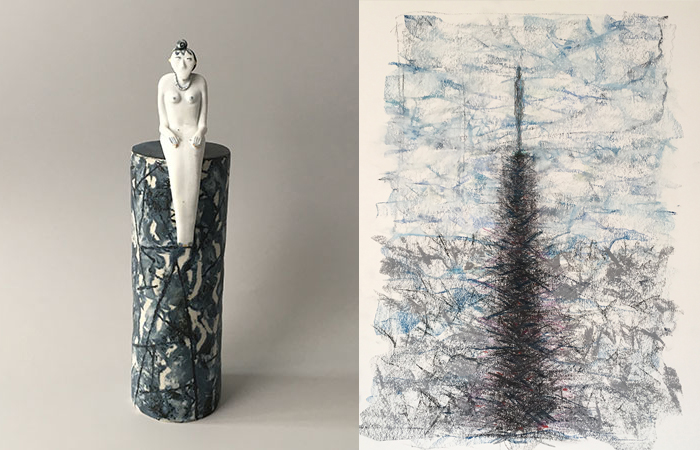 Cambridge Contemporary Art
A mixed exhibition of my paintings and ceramics. The central focus on courage and vulnerability, showing works made specially for the exhibition along side other pieces.
Dates : 28 April to 20 May 2018
Website : http://www.cambridgegallery.co.uk/
Helen Martino Ceramic | Cambridge Artisans
The studio has been established for 30 years. It is within my house. I welcome visitors by prior appointment.
Training. Degree, Central School of Art and Design, London 1969. Foundation, Farnham 1965/6. Diploma in Printmaking at Anglia Ruskin University.
Selected Member Anglian Potters
Exhibitions   I have exhibited nationally over the previous 20 years and in Belgium and Holland since 2002.
2018
Valentines Exhibition Cambridge Contemporary Art All of February
Cambridge Contemporary Art 28th April to 20th May
Gallery Pi, Erpe, Belgium 27th September
Cambridge Open Studios, 72 Huntingdon Road, Cambridge, CB3 0HH. 7th/8th 14th/15th July
Christmas Open Studios 24th/25th December
2017
Valentines Exhibition. Cambridge Contemporary Art All of February
In the window. Cambridge Contemporary Art. Trinity Street, Cambridge. All of July
Cambridge Open Studios, My Studio 1st/2nd and 15th/16th July
Summer Show. Velvet Easel Gallery, Portobello, Edinburgh, Scotland July and August
Christmas Open Studio. My studio 9th/10th December
Earlier Exhibitions