The Pyramid Gallery
43 Stonegate, York YO1 8AW
Dates : 28 February 2020 onwards
Website : https://www.pyramidgallery.com/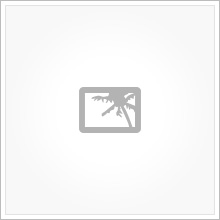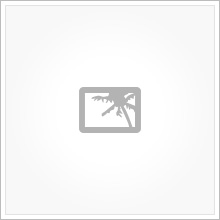 Cambridge Open Studios
The Fen Ditton Gallery, 23 High St, Fen Ditton, Cambridge CB5 8ST
Cambridge Open Studios 2020. My Open Studio this year will be in Lotte Attwood's Fen Ditton Gallery, sharing with Lotte Attwood (photographer), Janet Powell (jeweller), Rosemary Calum (painter) and my ceramics.
Dates : Saturday and Sunday 18/19 July & Saturday and Sunday 25/26 July – 11am – 6pm.
Website : https://www.camopenstudios.co.uk/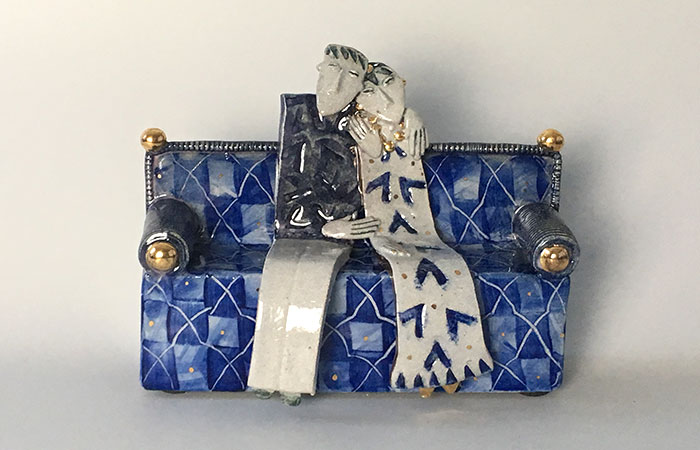 Cambridge Open Studios
72 Huntingdon Road, Cambridge, CB3 0HH
I work in my studio, looking out at my garden and the weather virtually every day. I love clay, creativity and making sculptures. Why not come and see!
Dates : Saturday and Sundays – 7/8 July & 14/15 July 2018 – 11am to 6pm
Website : https://www.camopenstudios.co.uk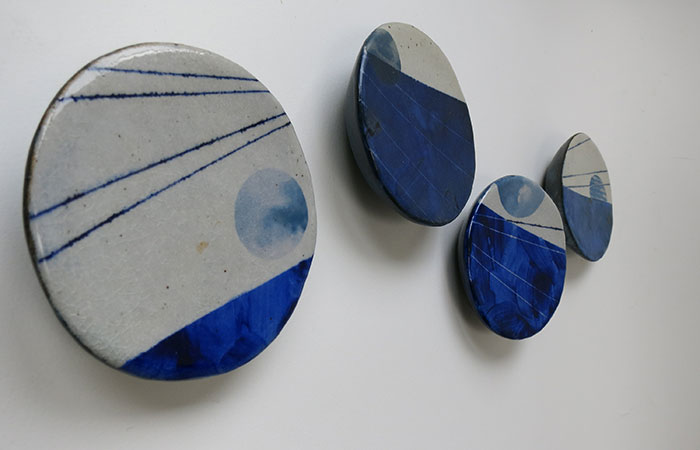 Galerij Pi Kwadraat, Erpe-Mere, Belgium
I am lucky to be invited once again to show my work in Paul Yperman's gallery with Sasha Wardell, Pavel Knapek, Vladimir Groh & Yasuyo Nishida and Margot Thyssen. I will be making some new wall pieces and sculptures. I hope to be there for the private view. This is a gallery that specialises in ceramics and glass.
Dates : 23 September to 14 October 2018
Website : http://pikwadraat.be/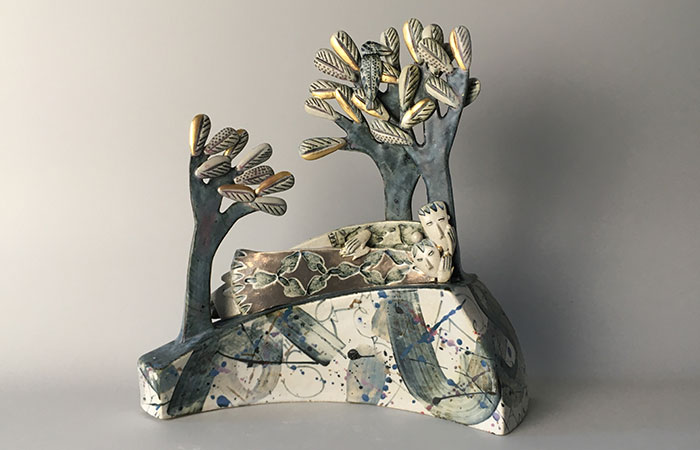 Montpellier Gallery, Stratford-upon-Avon
I am enjoying working towards this exhibition, more details to follow.
Dates : December 2018
Website : http://montpelliergallery.com/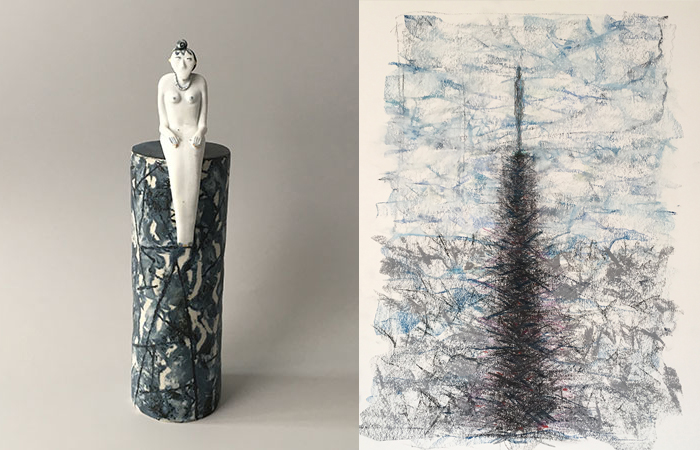 Cambridge Contemporary Art
A mixed exhibition of my paintings and ceramics. The central focus on courage and vulnerability, showing works made specially for the exhibition along side other pieces.
Dates : 28 April to 20 May 2018
Website : http://www.cambridgegallery.co.uk/
Interview during my private view at Cambridge Contemporary Art
I talk with Daniel Baker about Open Studios and my work for Cambridge Community Radio.
The studio has been established for 30 years. It is within my house. I welcome visitors by prior appointment.
Training. Degree, Central School of Art and Design, London 1969. Foundation, Farnham 1965/6. Diploma in Printmaking at Anglia Ruskin University.
Selected Member Anglian Potters
Exhibitions   I have exhibited nationally over the previous 20 years and in Belgium and Holland since 2002.
2018
Valentines Exhibition Cambridge Contemporary Art All of February
Cambridge Contemporary Art 28th April to 20th May
Gallery Pi, Erpe, Belgium 27th September
Cambridge Open Studios, 72 Huntingdon Road, Cambridge, CB3 0HH. 7th/8th 14th/15th July
Christmas Open Studios 24th/25th December
2017
Valentines Exhibition. Cambridge Contemporary Art All of February
In the window. Cambridge Contemporary Art. Trinity Street, Cambridge. All of July
Cambridge Open Studios, My Studio 1st/2nd and 15th/16th July
Summer Show. Velvet Easel Gallery, Portobello, Edinburgh, Scotland July and August
Christmas Open Studio. My studio 9th/10th December
[read more="Earlier Exhibitions" Less="Close"]
2016
Valentines Exhibition Cambridge Contemporary Art. All of February
Little Picture Show Albany Gallery Cardiff
Cambridge Open Studios. My studio 2nd/3rd and 9th/10th July
Christmas Open Studios with Lotte Attwood, Aylestone Road Cambridge 26th/27th November
2015
Valentines at Cambridge Contemporary Art – February
My heart lies beside the sea. White House Gallery, Kirkudbrigh, Scotland – May
Summer show. Market Place Gallery, Olney, Bedfordshire – July
Cambridge Open Studios, My studio – 11th & 12th and 18th & 19th July
Summer show. Cambridge Contemporary Art – July & August
Innovations in Ceramic Art, Guildhall, Cambridge – 10th 11th October
Anglian Potters Selected members exhibition. Ferini Art Gallery in Lowestoft – October
Christmas Open Studio. My studio – 28th and 29th November
2014
Valentines at Cambridge Contemporary Art – February
Hay on Wye festival with the Bowie Gallery – May
Two woman show with Anita Klien at Cambridge Contemporary Art – June
Cambridge Open Studios at 72 Huntingdon Road – first 2 weekends in July
10th Anniversary Show at Gallery Pi, Erpe, Belgium – October
Cambridge Christmas – 24th November
Open studios, My studio – 7th & 8th December
2013
Valentines at Cambridge Contemporary Art – February
Brighton Open Houses with Nina Green – June
Summer exhibition Cambridge Contemporary Art – July
Cambridge Open Studios at 72 Huntingdon Road – July
Affordable Art Fair London with Bell Fine Art – September
Biscuit Factory, Newcastle on Tyne – October
Gallery Pi, Erpe, Belgium – November
Christmas open studio with Lotte Atwood – November
2012
Valentines at Cambridge Contemporary Art – February
Anglian Potters, selected members at Cambridge Contemporary Art – April
Brighton Open Houses with House of Newts – All weekends in May
Hay on Wye Book Festival – June
Cambridge Open Studios – First 2 weekends in July
Brighton Art Fair with Re-mark Printmakers – September
Christmas Open Studios with Lotte Attwood – Last weekend in November
2011
Valentines at Cambridge Contemporary Art – February
Brighton Open Houses at House of Newts – All weekends in May
Cambridge Open Studios – First 2 weekends in July
Birds and Beasts, Cecilia Colman Gallery, London – August
Cambridge Contemporary Art, Helen Martino and Ian McWhinnie – 30 September
Affordable Art Fair, London with Bell Fine Art – October
Red Barn Gallery, Cumbria – October
Christmas Artists, Old Chapel Gallery, Herefordshire – November
Christmas Open Studios with Lotte Attwood – Last weekend in November
2010
Solo show,  Ropewalk Gallery, Barton on Humber, Lincolnshire -18th June to 17th July
Cambridge Contemporary Art, Summer exhibition – 20th July to 1st Sept
Cambridge Open Studios, 72 Huntingdon road – First 2 weekends in July
Brighton art Fair with Re;mark, Corn exchange, Brighton – 17th, 18th, 19th September
Made10 Brighton, Corn exchange Brighton – 19th, 20th, 21st November
Christmas Open Studio, 21 Aylestone road, Cambridge, CB4 1HF – 27th, 28th November
2009
Valentines exhibition, Cambridge Contemporary Art – February
Anglian Potters selected Exhibition, Ely Cathedral – June
Remark Printmakers Exhibition. Redchurch Street Gallery. London – June
Cambridge Open Studios, 72 Huntingdon Rd, Cambridge – First 2 weekends in July
Summer Exhibition Albany Gallery, Cardiff, Wales – July
Summer Exhibition, Cambridge Contemporary Art – July/August
Helen Martino and Christy Keeney, Red Barn Gallery, Cumbria – October
Christmas Open Studio, 72 Huntingdon Road, Cambridge – Last weekend in November
2008 
Cambridge Open Studios – July
Potfest in the Park, Penrith – July
Summer exhibition. The Toon Thijs Gallery, Nijmegen, Holland – July
Helen Martino and  Ian Mcwhinnie, Cambridge Contemporary Art – October
Gallery Pi Squared, Erpe, Belgium – November
2005/6&7
The Toon Thijs Gallery, Nijmegen, Holland, Solo Show – September 2005
Statements, Gallery Top, Derbyshire – October 2005
Brighton Open Houses – May 2006
Affordable Art Fair with the Albany Gallery, Bristol – May 2006
Showcase Cambridge Contemporary Art – May  2006
Art in Clay, Hatfield – August 2006
Castle Gallery, Inverness.  Figures at the Castle  3 woman show – September 2006
Cambridge Contemporary Art – November 2006
Brighton Craft Fair with the Red biddy gallery – November 2006
Edinburgh Art Fair with the Castle gallery – November 2006
Art in Clay the Maltings Farnham – November 2006
Gallery Top, Derbyshire – November 2006
Anglian Potters, All Saints Church, Cambridge – November 2006
Albany Gallery, Cardiff – November 2006
Spring show, Cambbridge Contemporary Art – March 2007
re:mark; Ruskin Gallery Anglia Ruskin University – May 2007
R.K Burt Gallery. London – June 2007
Affordable Art Fair with the Albany Gallery – May  2007
Two ladies. Exhibition with Sue Crossfield, The Ropewalk Gallery – October 2007
[/read]